23rd November 2022 | 14:00 - 15:00
AI based Quantitative Imaging Biomarkers (Radiomics) for Head and Neck Cancer Prognostication
A video recorded presentation is available here
Speaker: Dr Hannah Mary Thomas, Department of Radiation Oncology, Christian Medical College, Vellore, India
Head and Neck cancers (HNC) are a biologically complex and epidemiologically heterogenous family of rare malignancies. HNC is officially classified as a rare (a.k.a "orphan") disease that does not receive anywhere near the same support socially and economically as lung, breast, or prostate cancers. However, the burden of HNC is intense – in India, around 200,000 new patients are diagnosed each year (about 20% of all cancer diagnoses) but often presenting in advanced stages of disease, with poor prognosis and short expected lifetime. One of the most challenging yet most important task following diagnosis is to know which therapy is most likely to get a strong response from an individual tumour. At present, this crucial decision is based only on doctor-derived observations such as age and extent of cancer, qualitative visual interpretation of radiological images and averaged statistics of randomized clinical trials. Cutting-edge advances in molecular biomarkers allow cancer treatment to be more personally tailored to the individual patient, using tests that reveal the activation of specific genetic pathways but are based on small selective samples extracted from the tumour. Non-invasive radiological images, derived by Computed Tomography (CT), Positron Emission Tomography (PET) and Magnetic Resonance (MR) imaging, remains indispensable for diagnosis and decision-making because it allows analysis of a whole tumour in situ (in 3D and/or its evolution as a function of time). However, the disappointing clinical outcomes in HNC is testament that our state-of-the-art knowledge is simply not good enough.
Radiomics is a new and rapidly evolving field in oncology that uses machine learning-driven quantitative analysis of vast volumes of radiological imaging data. The basis of radiomics is high-throughput computer-assisted conversion of unstructured qualitative "pictures" into numerical quantifiable unique "features" that can be archived digitally and then mined at massive scale for clinical insight using machine learning and deep learning techniques. The radiomics hypothesis rests on the variability in clinical outcomes and/or responses to treatment being fundamentally grounded into differentiable phenotypes (observable physical properties) of the tumour, and hence computer vision-based analysis of phenotypes reveal prognostic signatures (i.e. combined sets of solitary features) that go much further than what unguided human eyes can perceive. Despite these early successes, there are barriers to clinical adoption and implementation of Radiomics in radiation Oncology.
Our team from the Quantitative imaging research and Artificial Intelligence from Christian Medical College, Vellore, India, lab funded by Wellcome Trust, UK and Department of Biotechnology, India (India Alliance grant 2020-2024) are building the tools, team and infrastructure for better understanding Radiomics within our clinical workflow, primarily for head and neck cancer. I will be sharing our experiences of running the largest prospective imaging trial for Head and neck cancer, multi-institutional radiomics studies. During the Institute of Advanced Sciences External Academic fellowship period, I hope to understand and incorporate the work on stability of radiomics features by Dr. Helen Wang and Dr Philip Evans' team from Centre for Vision, Speech and Signal Processing (CVSSP) and Royal Surrey Hospital to our head and neck cancer Radiomics models.
Bio: 
Hannah Mary Thomas, PhD (2016) is an Imaging Scientist in the Department of Radiation Oncology at the Christian Medical College, Vellore, India, supported by the DBT/Wellcome Trust India Alliance Early career fellowship. She co-founded the Quantitative Imaging and Artificial Intelligence (AI) research Lab that currently focuses on 1) Quantitative Imaging of Cancer and Normal Tissue 2) AI for health outcome prediction models and 3) Making AI accessible and inclusive. Dr Thomas has authored over 25 publications. She has been the recipient of many fellowships and awards in the last 15 years including the Fulbright-Nehru Doctoral and Professional Fellowship at the University of Washington, Seattle. She is currently the Institute of Advanced Sciences External Academic Fellow (2021-22) at the Centre for Vision Speech and Signal Processing , University of Surrey.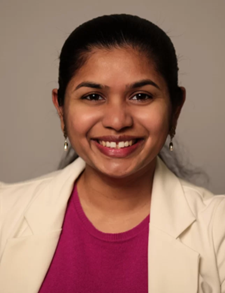 Workshop Report
The report for this workshop is coming soon, please check back later.