25th July 2013 - 26th July 2013
Anion-Exchange Membranes for Energy Generation Technologies
This Workshop will consist of presentations from invited research leaders at the forefront of both membrane and catalyst technologies designed specifically to meet the rigorous demands of anion-exchange membrane containing energy systems.
The last decade has seen a significant increase in research activity looking at anion-exchange membrane in electrochemical energy technologies. Since 2003, the electrochemical energy materials team in the Department of Chemistry, University of Surrey has been world leading in the study of such membranes in solid alkaline fuel cells. To mark the 10th year of these efforts in Surrey, the University of Surrey is hosting a 2 day workshop to establish a consensus of the state-of-the-art regarding the use of anion-exchange membranes in various electrochemical devices such as fuel cells, redox flow batteries, electrolysers and reverse electrodialysis cells. Select and renowned researchers from around the world [industrial and academic] have been invited to participate as have leading researchers in the UK. The workshop will also look at suitable next steps along with establishing new international collaborations in the field.
The organisers thank the UK's Engineering and Physical Sciences Research Council (Grants EP/I004882/1 and EP/H025340/1) and the University of Surrey Institute of Advanced Studies workshop grant scheme for funding. UK participants are funded with thanks to the Research Council UK Energy Programme's Supergen Hydrogen and Fuel Cell Hub (Grant EP/J016454/1 led by Imperial College London).
ORGANISERS 
Dr John Varcoe, Department of Chemistry, University of Surrey
Dr Simon Poynton, Department of Chemistry, University of Surrey
POST EVENT PUBLICATION
Publication of a major 'perspective' article Anion-exchange membranes in electrochemical energy systems in Energy & Environmental Science (DOI: 10.1039/c4ee01303d)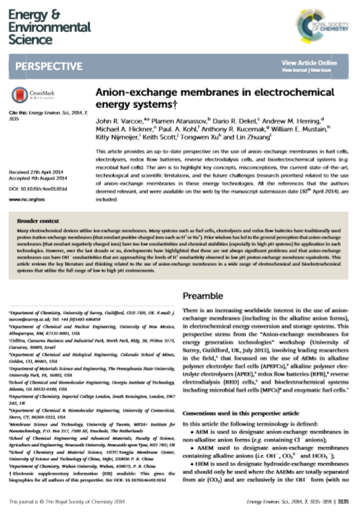 Workshop Media
Please see the accompanying videos below for more information on this event.